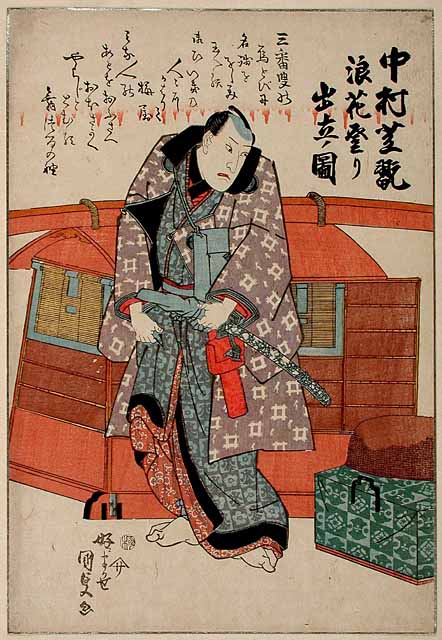 Nakamura Shikan II departing for Osaka 1833
Private collection
Nakamura Shikan II was primarily an Osaka actor but he worked for extended periods in Edo. His first sojourn in Edo ran from 1828 to 1833. At the end of 1833 Kunisada marked his departure from Edo by designing this print. This is as much a fashion plate as a commemorative print.
Shikan II is shown dressed in the latest fashion of the town before the sedan chair that will carry him away. His accoutrements are meticulously rendered, while his pose is identical to those encountered in Kunisada's prints of beautiful women of this period.
To the right, resting on his trunk, is a rush basket, reminding us of the low legal status of actors in Tokugawa Japan: actors, along with criminals, were required to wear such baskets over their heads when passing along city streets.
---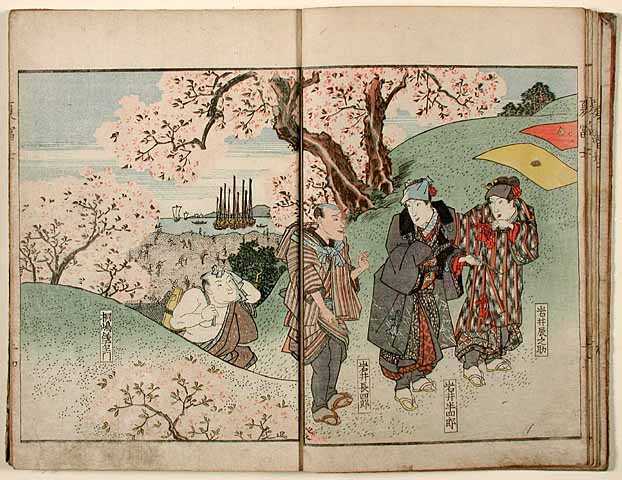 Natsu no Fuji (Fuji in Summer)
Two volumes with colour prints from woodblock, 1827
Private collection
Volume 1
Just as in summer we see Mt. Fuji without its covering of snow, so in this book Kunisada shows us the stars of the Kabuki stage at their leisure, without their familiar covering of make-up. Here the female-role actor (onnagata) Iwai Hanshiro V is shown on an outing to view cherry blossoms with members of his acting 'family'. He and the student-attendant to his left both wear female attire. 
---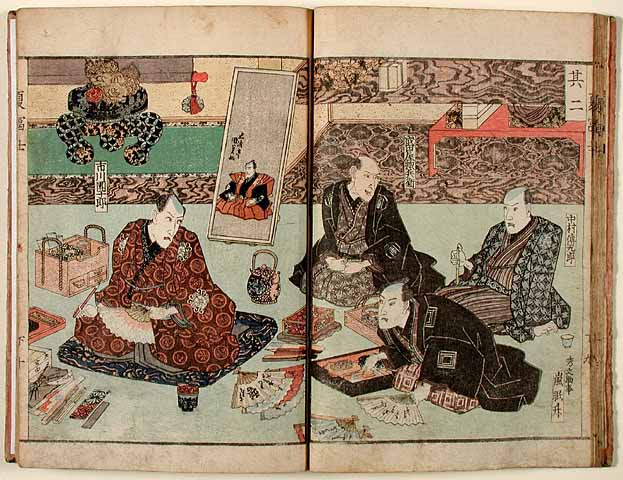 Natsu no Fuji (Fuji in Summer)
2 volumes with colour prints from woodblock, 1827
Private collection
Volume 2
Kunisada 29
Ichikawa Danjuro VII is shown in his sumptuous residence, seated to the left and holding a folding fan on which he is about to inscribe a poem. Fans that he has already inscribed lie at his side.
On the right the actor Araki Minsho applies Danjuro's personal seal to the inscribed fans. The manager of the Nakamura theatre, Nakamura Denkuro and an assistant manager, Naritaya Sobei, look on. The painting resting against the back wall is of the actor Matsumoto Koshiro V and carries Kunisada's signature.
The opulence of the fittings and furnishings in Danjuro's villa contravened the sumptuary laws. Officials turned a blind eye to his lifestyle until 1842, when charges were brought against him, parts of his residence were razed to the ground, and he was exiled from Edo.
---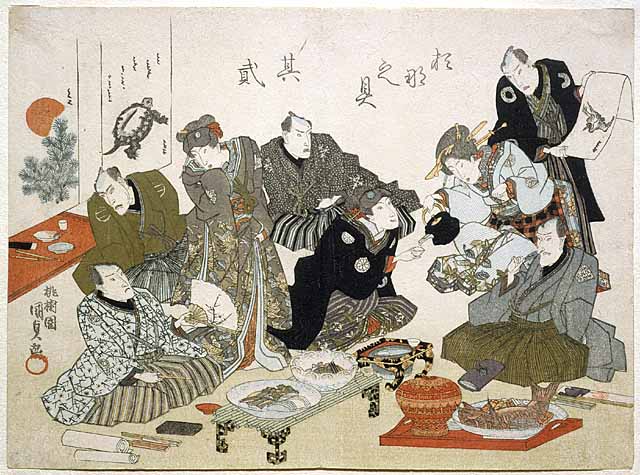 Picture of the calligraphy and painting party held at Mampachiro Mampachiro-jo shoga-kaiseki no zu
Kunisada 90
The same: number 2 (Onajiku sono ni)
Onajiku sono ni
1827
Given to the Fitzwilliam Museum by E. Evelyn Barron in 1938
A pair of surimono made for a small album distributed at a calligraphy and painting party held at Mampachiro Restaurant, Yanagibashi, Ryogoku on the 27th day of the third month 1827, to announce the assumption of the name Takasada by Kunisada's son. The preface to the album by Rokujuen (the author Ishikawa Masamochi) suggests that Takasada was an unwilling participant in the party and that he was only there at the insistence of Kunisada. No work by Takasada has yet been identified. Kunisada and his son, together with all of the actors depicted in the prints, contributed haikai poems to the album. The only known surviving copy of the album (Japanese private collection) is inscribed on the back cover by Danjuro VII.
Several Kabuki actors from Kyoto and Osaka who were performing in Edo in 1827 are among those depicted. From right to left, in the first print (top) : Ichikawa Danjuro VII (1791-1859), Iwai Kumesaburo II, later Hanshiro VI (1779-1836), Arashi Kanjuro I (1774-1827), Bando Mitsugoro III (1775-1831), Bando Hikosaburo IV (1800-1873), and Iwai Shijaku I, later Hanshiro VII (1804-1845). In the second print (bottom): Matsumoto Koshiro V (1764-1838), Mimasu Gennosuke I, later Daigoro IV (1798-1859), Iwai Hanshiro V, later Tojaku (1776-1849), Nakamura Denkuro V (1800-1851), Segawa Kikunojo V (1802-1832), Kataoka Nizaemon VII (1755-1837), and Onoe Kikugoro III (1784-1849).
Collections Record: P.62-1938
---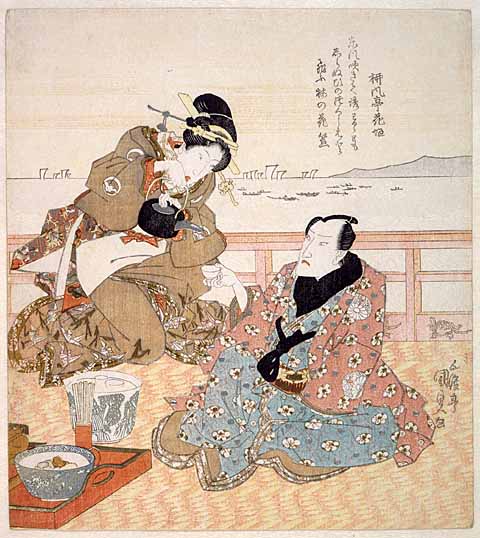 Onoe Kikugoro III taking tea at Shinagawa
c.1825
Given to the Fitzwilliam Museum by E. Evelyn Barron in 1937
This is a 'farewell' surimono depicting the actor Onoe Kikugoro III before he departed on his pilgrimage to the Tenjin Shrine at Dazaifu on Kyushu in 10/1825. He is seated on the second-floor balcony of a Shinagawa restaurant at the start of the Tokaido highway. He had just completed performing in the sensational first performance of the most famous of Kabuki ghost plays, Tokaido Yotsuya kaidan, which had been written for him by Tsuruya Nanboku IV. Kikugoro achieved great fame for using a series of astonishing costume-changing devices in order to perform three central roles.
Kikugoro's acting crest (mon) appears on the sleeves of his robe. The plum-blossom (gyoyo-giku) pattern was also a personal motif of Kikugoro, whose poetry name was Baiko ('Plum luck'). Plum was also associated with the Tenjin Shrine. The bat-motif on the waitress's kimono is a symbol of good luck. The turtle motif on the railing may be the mark of the kyoka poetry club that commissioned the print.
Collections Record: P.491-1937
---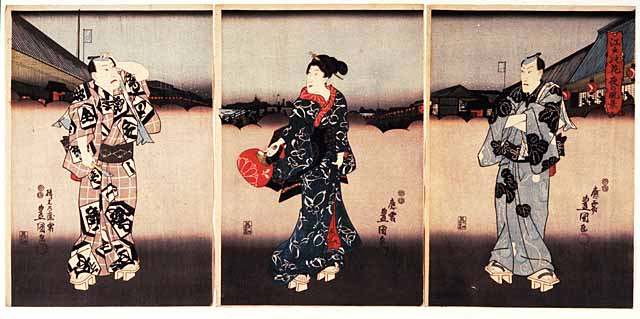 Edo no hana yoru no fukei (Flowers of Edo: A Night View)
Kunisada 34
c.1847-52
Given by the Friends of the Fitzwilliam with the aid of the MGC Purchase Grant Fund and the National Art Collections Fund.
A triptych showing three leading Edo (Tokyo) actors of the 1840s in summer kimono: Ichikawa  Danjuro VIII (right), Bando Shuka I (centre) and Nakamura Utaemon IV (left).
Collections Record: P.57-1999
---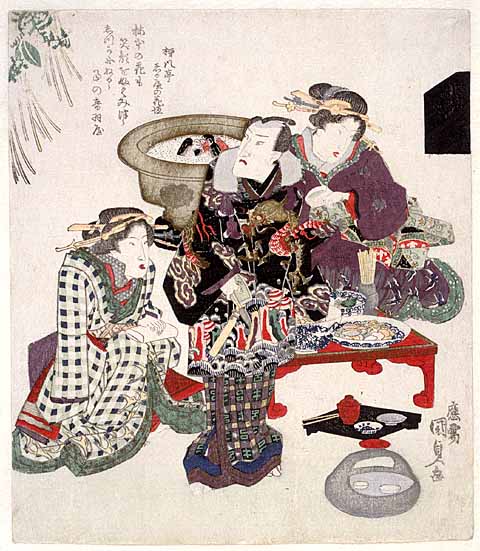 Otowaya (Onoe Kikugoro III) at Umemoto
c.1825
Given to the Fitzwilliam Museum by E. Evelyn Barron in 1937
This surimono shows the Kabuki actor Onoe Kikugoro III being entertained on a rainy spring day at Umemoto, one of the three biggest teahouses in Naka-cho. Naka-cho was one of the seven entertainment quarters in the Fukagawa area, which were not officially approved by the government but which flourished in the first quarter of the 19th century.
The entertainment given here was apparently more lively than in the Yoshiwara. The dandy and fashion-leader Kikugoro is portrayed in a kimono woven with his own chequer design called Kikugoro-jima. The black shape at top right is the end of a box containing a shamisen (3-stringed instrument)
Collections Record: P.496-1937